Looking for a exterior painter and decorator in London
---
Introduction to Exterior Decorating in London
Exterior decorating in London is all about improving the look of residential and commercial buildings. Painting, rendering, and cladding are some of the tasks involved. London has a wide variety of buildings, providing plenty of scope to express creativity and artistry.
Decorators in London are highly experienced. We know different types of paints, finishes, and techniques. We also understand the importance of protecting buildings from weather, pollution, and wear and tear. We pick the right colors and materials to blend with the surroundings, while also reflecting the homeowner's personal style.
Exterior decorating in London requires attention to detail. Decorators prepare surfaces by cleaning, filling cracks, and removing old paint or coatings before applying new ones. We come equipped with ladders, scaffolding, and safety gear. Furthermore, we work with local authorities and heritage organizations to ensure projects adhere to regulations and conservation guidelines for listed buildings or conservation areas.
Did you know there are awards for exemplary exterior decorating in London? The SPAB runs an annual John Betjeman Award to honor repair or conservation works on historic buildings. These awards showcase the importance of professional exterior decorating for preserving London's architectural heritage.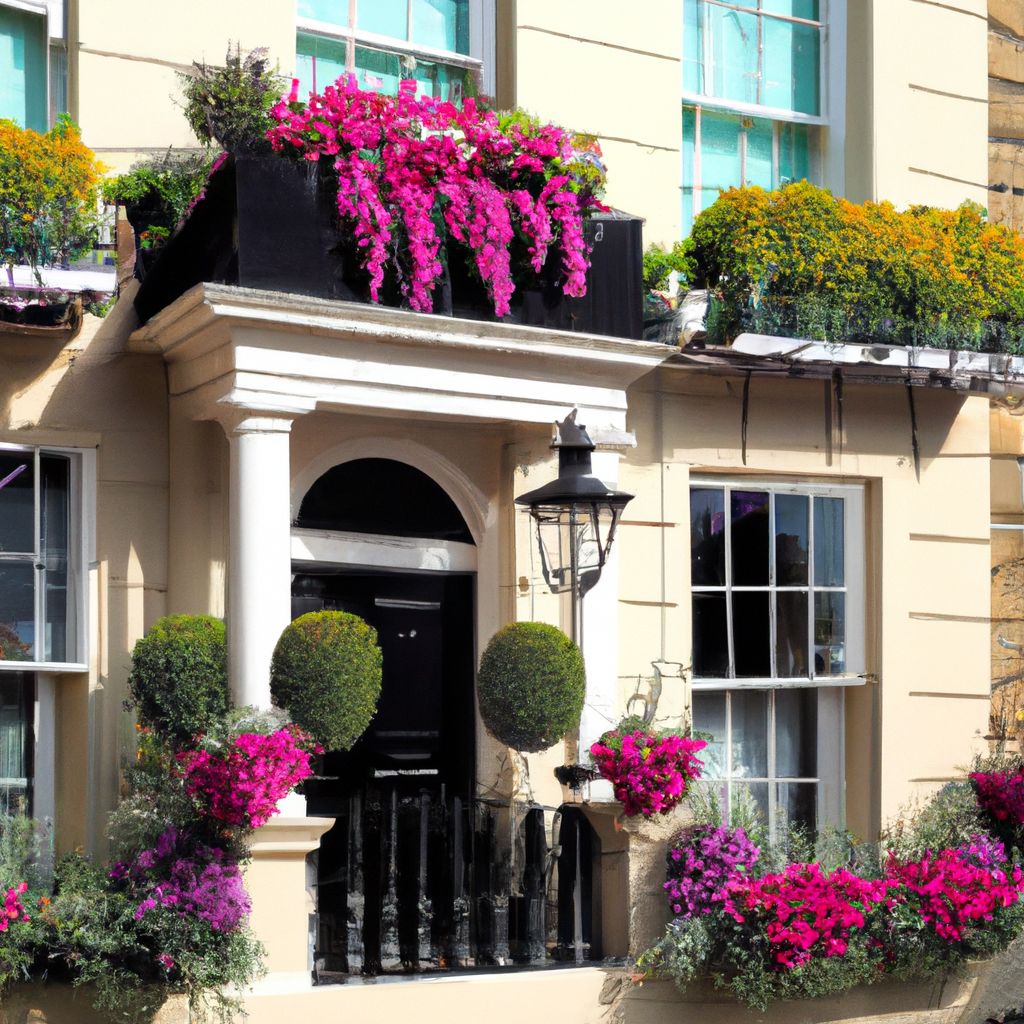 The Importance of Exterior Decoration
Exterior decorating is a must for any property. It not only creates a captivating and attractive look, but also protects it from harsh weather. Plus, it extends the lifespan of the building. It reflects the pride and care taken by its owners. Investing in high-quality exterior decoration keeps your property in good condition for longer. It makes a great impression on visitors and potential buyers or tenants. A visually pleasing exterior can also increase the value of your property.
Choosing materials wisely is key for longevity and durability. Weather-resistant paints and coatings protect the building from moisture, cracks, and color fading due to sunlight. Professional decorators have access to specialised products that can withstand extreme London weather.
The Royal Institution of Chartered Surveyors (RICS) conducted a study and found that properties with well-maintained exteriors sell faster and at higher prices than those with neglected facades. Exterior decoration is important when it comes to attracting interest.
Finding the best exterior decorators in London can be tricky. But no need to worry! We've rounded up the most magical ones for you.
Finding the Best Exterior Decorators in London
Finding the perfect exterior decorator in London can be tricky. So many options! Here's six points to think of when searching:
Experience: Look for decorators with a good track record in exterior work.
Portfolio: Check out their past projects to get a feel for their style and quality.
Customer Reviews: Look online for feedback from previous clients.
Price: Compare quotes from different decorators to find one that fits your budget.
Insurance: Make sure the decorators have insurance coverage.
Innovation: Find decorators who use modern techniques and materials for a fresh touch.
What makes our exterior decorators special is attention to detail and ability to bring unique ideas to life. From designs inspired by local history to contemporary styles, The Painting Specialist go beyond simple paint jobs.
A true story involves a couple wanting to turn their Victorian townhouse into a masterpiece. They searched, but couldn't find the right vision. Then they found an obscure blog post about Emma Jones - an artist recently returned from Paris. They reached out and what followed was magical!
Emma designed a mural telling the home's story. After months of work, passersby would stop in awe at the lifelike scenes. The couple were so happy with their decision to hire Emma!
Sometimes, the search for the best exterior decorators in London leads us to unexpected gems who can turn our homes into works of art.
Popular Exterior Decorating Trends in London
Londoners are known for their unique approach to enhancing exterior decor and style. From vibrant colors to architectural accents, plants and modern design elements, the cityscape is constantly changing.
Bold reds, blues, and hanging baskets of flowers all add to the overall charm of London. Architectural accents like decorative moldings and wrought iron details bring sophistication. Clean lines, minimalist aesthetics, and sustainable materials also contribute to the transformation of the cityscape.
Moreover, research has shown that exterior decorating can have a positive effect on property value. Homes with well-maintained exteriors can attract higher offers from potential buyers.
So, when it comes to giving your London home a makeover, don't be afraid to express yourself. With the right exterior decorating, you can make your neighbors jealous!
Exterior Painting Techniques and Color Selections in London
When it comes to Exterior Decorating in London, there are lots of painting techniques and colors to choose from. Here are 6 points to consider:
Weather matters. Damp climate requires paints that can cope with moisture and last.
Prep is key. Clean and repair surfaces for a smooth finish.
Color choice is vital. Neutrals and pastels are popular.
High-quality paints with good coverage give a professional look.
Layering paint colors adds depth and texture.
Experienced painters are essential.
Regulations for historic buildings also exist. They aim to preserve architectural heritage while still allowing for creativity.
Did you know Notting Hill has a unique pink and turquoise combo? It was part of an initiative to transform rundown terraces into colorful spectacles - now they're landmarks adored by locals and tourists.
London's wall treatments and cladding will give your exterior a makeover that won't wash away - even in the rain!
Wall Treatments and Cladding Options for Exterior Decoration in London
Brick Cladding: Durable and classic, it adds charm and insulation.
Render Finishes: Sleek and contemporary look, with various textures and colors.
Timber Cladding: Natural and eco-friendly, adding warmth and character.
Other wall treatments include stone cladding, metal cladding, and glass panels. Allowing individuals to make a statement with their unique designs.
London's diverse architecture offers creative opportunities for wall treatments. From Georgian townhouses to modern skyscrapers, each building has its own story to tell.
RIBA states London is home to award-winning buildings, renowned for their innovative use of wall treatments. Transforming London's concrete jungle into a botanical bliss. Nature deserves a stylish return!
Enhancing Outdoor Spaces with Landscaping and Garden Design in London
Transform your dull London house into an oasis! With the help of professionals, create a personalized landscape that reflects your style. Choose from a range of options - English gardens, contemporary designs - and combine flowers, trees, and hardscape elements for a stunning visual impact. Plus, landscaping increases property value and provides additional living space.
In London, you can find some of the world's most famous gardens. UNESCO World Heritage site Kew Gardens is known for its glasshouses and diverse plant species. So get ready to turn your London house into an extraterrestrial-free zone!
Adding Style and Functionality with Exterior Lighting in London
Outdoor lighting fixtures come in a plethora of styles and designs. From modern to traditional, there's something for everyone. These fixtures are made from high-quality materials to withstand London's harsh weather.
Not only does it enhance visual appeal, but it also adds functionality. Lights can make navigating pathways safer and create a more inviting atmosphere for guests.
Exterior lighting has a unique ability to highlight historic buildings and landmarks. Illuminating the façade of a building can showcase its intricate details and make it stand out.
The Royal Horticultural Society (RHS) states that warm-toned lights provide softer illumination compared to cool-toned lights. This complements the natural surroundings better.
If you want to elevate your outdoor spaces with style and functionality, invest in exterior lighting solutions. But don't forget: a fresh coat of paint can hide a multitude of sins, but not your neighbors' taste in lawn gnomes.
Maintaining and Repairing Exterior Decorations in London
Inspect regularly to identify any damage or wear. Repair cracked or peeling paint to avoid further deterioration. Clean and treat surfaces for long-lasting decorations. Get high-quality materials for a durable finish. Weatherproof decorations to protect against harsh climates. Hire skilled painters for a flawless and professional result.
Be original! Select distinct color combos and design elements that reflect your style. Upgrade the look and longevity of decorations with premium paints. Don't delay - contact professional decorators in London to give your property's exterior a stunning makeover. Make a lasting impression and increase your property's value.
Planning ahead for exterior decorating in London can be tricky - but, it's possible to paint the town red without going broke!
Budgeting for Exterior Decorating Projects in London
When sprucing up your property in London, budgeting is key! There are three main points to bear in mind:
Check Prices: Look into the cost of materials, labour, and any permits or licenses needed. This will stop any nasty surprises!
Highlight Fix-ups: Take a good look at your exterior, and identify any urgent repairs. You'll need a separate part of the budget for this.
Invest Long-term: Be tempted to go for cheaper options? Don't! High-quality products will save you money in the long run.
Don't forget to factor in contractor fees, waste disposal, and potential weather delays. Budgeting carefully will help you get the best out of your exterior decorating project in London. Mr. Johnson learned this lesson the hard way! Now, take a look at the stunning transformations around the city; who needs sunshine with a perfectly painted façade?
Case Studies of Successful Exterior Decorating in London
Exterior decorating in London has had great success stories, showcasing the city's vibrant and architectural landscape. These case studies prove the skill and expertise of professionals in enhancing the beauty and appeal of buildings.
A notable example is the restoration of a Georgian townhouse in Kensington. Craftsman used traditional techniques to bring back its grandeur. Authentic materials and period-specific colors made the building fit perfectly with the surrounding architecture.
Modernization of a commercial skyscraper in Canary Wharf was also impressive. Creative designs blended with contemporary aesthetics. Sleek lines, glass panels, and vibrant accents made the building an iconic symbol of London's ever-evolving skyline.
Sustainability was also prioritized in these projects. Low-VOC paint and energy-efficient lighting systems enhanced the visual appeal and reduced environmental impact.
The Great Fire of 1666 led to regulations requiring fire-resistant exteriors. These rules still influence contemporary exterior decorating practices, emphasizing safety and creativity.
Conclusion: Achieving Stunning Exterior Decorations in London
To get stunning exterior decorations in London, there are a few things to think about. Materials are key. Quality and durable ones are a must. Also, the colour scheme matters. Pick one that fits the environment and architecture style.
Architectural elements such as window boxes, trellises and mouldings add character and charm. Plus, don't forget maintenance. Clean, repair and repaint when needed. Professional advice can also be helpful. They provide design trends and techniques. They help you make the best decisions.
In summary, for beautiful exterior decorations in London, consider materials, colours, architectural elements, maintenance and professional advice.
Frequently Asked Questions
1. What services do exterior decorating companies in London offer?
Exterior decorating companies in London offer a range of services including painting, stucco work, wall repair, fence staining, gutter cleaning, and power washing.
2. How much will it cost to hire an exterior decorating company in London?
The cost of hiring an exterior decorating company in London depends on the size of the project, the materials needed, and the labour required. It is best to get a quote from the company before starting the project.
3. How long does it take to complete an exterior decorating job in London?
The time it takes to complete an exterior decorating job in London depends on the size and complexity of the project, but it usually takes several days to a week.
4. What precautions should I take before hiring an exterior decorating company in London?
You should check that the company is licensed and insured, ask for references, and read reviews from previous customers to ensure their work is of a high standard.
5. What type of materials should I use for exterior painting in London?
You should use high-quality, weather-resistant paint that is suitable for the type of surface you are painting. It is best to consult with an exterior decorating professional for advice on the best paint to use.
6. Can an exterior decorating company in London also repair cracks in the wall?
Yes, many exterior decorating companies in London offer wall repair services, including fixing cracks, holes, and other damage to the surface. It is best to check with the company beforehand if they offer this service.
External painting and decorating is a significant part. For this reason, only professionals should handle this work. This is an investment. It will protect your house, reflect a fantastic outlook, increase the value of the home, and improve the quality of the life of the people. You should not neglect it or else you would be the victim at the end.
We are always available for our clients. You can call or email us for further details and information about the services we provide.
A range of exterior skills and services
Email me direct: [email protected]
or call me on: 02073724092 / 07940508530